Rainbow Smoothie Challenge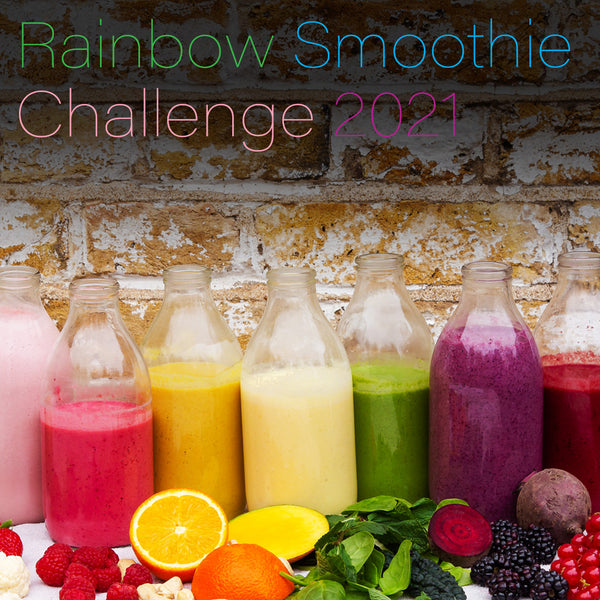 Rainbow Smoothie Challenge
RAINBOW SMOOTHIE CHALLENGE
       A 7 DAY PLAN TO EAT THE RAINBOW BEAUTIFULLY
In the much contradictory and ever-changing landscape of nutrition, it is increasingly complicated to navigate what we should be eating to feel well. 
But there is one, universal thing that dieticians, healthcare providers and food scientists all agree on: eating a greater variety of fruit and vegetables is ALWAYS A GOOD THING.
"EAT FOOD, NOT TOO MUCH, MAINLY PLANTS"  Michael Pollen
So I created a BRAND NEW programme that anyone and everyone can follow along with.
It's fun, delicious and will dazzle you with how easily you skip through FORTY FOUR plant ingredients in a week.
You simple add one delicious smoothie to your day, each one a different colour, and therefore full of a different host of vitamin and nutrient-drenched ingredients.
7 days, 7 smoothies, 7 colours
7 delicious recipes laid out for you beautifully, with tips and tricks on how to get ahead, the science on what each colour does and why. 
Every colour of the rainbow is discussed for what it does to us and why we need it. Some science some fun and a lot of deliciousness.
 My children all adore smoothies, so they will be joining in with me, and there is a super handy COLOUR CHART with your plan, so you can track your progress eating your way through all the colours each day.
THE SLEEP AND IMMUNITY SET
 of BE WELL and BE SLEEPY is on offer for January and both are INCLUDED IN THE RAINBOW CHALLENGE as added extras to supercharge your sleep and bolster the immune system.
It always helps if you have a friend to join in, so persuade your buddies, start a Facebook or WhatsApp group and keep yourself accountable. One of the main reasons people stay the course on a new eating plan, even one as simple as this, is my witting down to plan why you're doing it, and by checking in with a friend every day who is too. Get excited about feeling fabulous and it gets contagious. 
#RAINBOWSMOOTHIECHALLENGE
*with the free download you opt into our mailing list. A lovely newsletter full of useful tips and on things I'm making and loving.
Customer Reviews
Write a Review
Ask a Question
02/05/2021
Faria W.

United Kingdom
Easy and pleasing
Simple ingredients Can be used over and over again. Great resource
02/03/2021
Sarah B.

United Kingdom
Rainbow Smoothie Challenge
Great idea and really enjoyed doing it with one of our teenagers. Delicious flavours and we served some of them to the whole family without them knowing what special secret ingredients and goodies they contained. Thank you!
02/02/2021
Alex D.

United Kingdom
Rainbow delight
The rainbow challenge was delish, as always. But, to be honest i've learnt so much from lizzie and her food is excellent, delicious first but then well balanced too. Thank you so much for everything i've learnt from you. I can always trust your advice and recommendations.
02/02/2021
Michele B.

United States
Rainbow Smoothie
The smoothies tasted very good and were easy to make. A great way to start the new year.Thank you Lizzie for offering the free download.