50 Sachets BE SLEEPY - SAVE 15%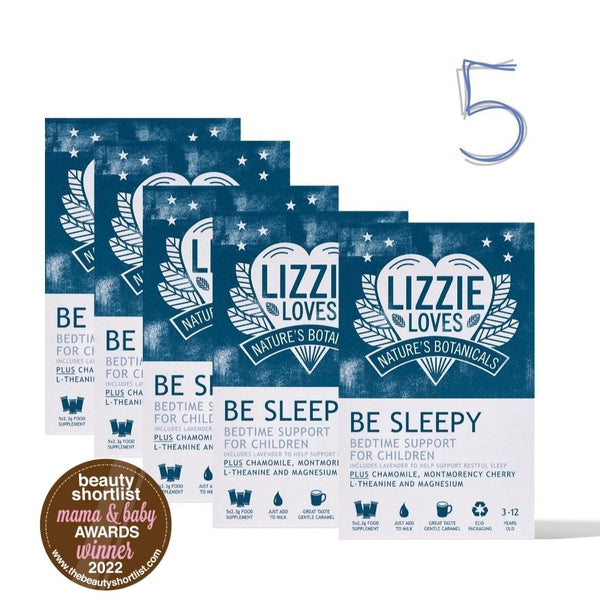 50 Sachets BE SLEEPY - SAVE 15%
FIVE x BE SLEEPY (10 x 2g sachets) - SAVE 15%
AND A FURTHER 10% OFF WHEN YOU SUBSCRIBE. 
BE SLEEPY is the perfect bedtime drink with Lavender which helps support children and adults have a more restful night's sleep. Coupled with Chamomile and Magnesium, plus Montmorency Cherry and L-Theanine. 
Bedtime support for Children and Adults
With lavender to help support restful sleep
Great taste - cosy caramel
We give our children a glass of this, mixed with milk, an hour or two before bed.  It's also lovely mixed into a smoothie or a yoghurt.

Key Ingredients:
Montmorency sour cherry 
L- Theanine 
Magnesium
Lavender 
Chamomile
Customer Reviews
Write a Review
Ask a Question
And ... they're asleep.
Prompt service. Fully recyclable packaging. Tasty drink which has our children away in the Land of Nod every time.
01/20/2022
Alison D.

United Kingdom
Sleeping grandchildren
I buy these for my grandchildren who are generally not good sleepers. My daughter thinks they are amazing as all three children sleep so much better with Be Sleepy. If she forgets she can see an obvious difference in how well the children sleep. She wouldn't be without them now.
01/12/2022
Mylene B.

United Kingdom
Brilliant for my daughter who struggles to get to sleep at night
Not sure how it works but she insists on having it every night now, loves it and she definitely settles far quicker when she has it than when she doesn't!
11/01/2021
Alex D.

United Kingdom
Amazing...we love it!
kids love it with frothy milk...definitely calms my middle one down for bedtime..thank you!
08/05/2021
Olivia L.

United Kingdom
Game Changer
After suffering from insomnia for 12 years and being on prescription medication for a short while, I tried these magic little pouches of sleepiness with my 8 year old daughter first. She responded really well after finding it difficult to fall asleep. I then though if they worked so well with her I too should give them a try. I took two sachets in a glass of milk 2 hours before going to bed and to be honest was rather sceptical, given my sleep history I didn't think 'Be Sleepy' would work for me. Wow, how wrong was I!?! For the first time in months I fell asleep quickly (within 20 mins) and slept though for a solid 7 hours, which is pretty unheard of for me! I have now been taking 'Be Sleepy' for the last few weeks and my sleep patterns and quality have really changed hugely. I am seriously grateful for these magic natural remedies and would highly recommend them. xx