30 Sachets BE SLEEPY - *£30 when you subscribe*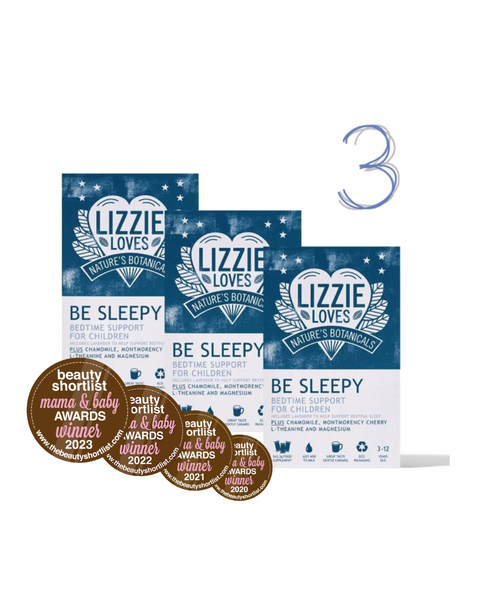 30 Sachets BE SLEEPY - *£30 when you subscribe*
3 x BE SLEEPY (10 x 2g sachets) - SAVE 10%
AND A FURTHER 30% OFF WHEN YOU SUBSCRIBE. 
BE SLEEPY is the perfect bedtime drink with Lavender which helps support children and adults have a more restful night's sleep. Coupled with Chamomile and Magnesium, plus Montmorency Cherry and L-Theanine. 
Bedtime support for Children and Adults
With lavender to help support restful sleep
Great taste - cosy caramel
We give our children a glass of this, mixed with milk, an hour or two before bed.  It's also lovely mixed into a smoothie or a yoghurt.

Key Ingredients:
Montmorency Sour Cherry 
L-Theanine 
Magnesium
Lavender 
Chamomile
Customer Reviews
Write a Review
Ask a Question
Simply amazing!
As any parent with restless kids knows (or those who fight sleep!) it's risky to say it out loud but so far I'm amazed at how these are helping my super active 3 year old sleep through the night. He still struggles to fall asleep but is far more restful during the night with these and sleeping through almost every night he has them. Game changing and he is calmer and happier for the higher quality, longer sleep! I'll be doing more research to ensure safe for him to take these everyday for many months but so far I am 100% happy!
07/27/2022
Lindi W.

United Kingdom
BE SLEEPY
I have been using all 3 products in my family for over a year now. Be sleepy had helped us through teething, travelling and even just the usual sleep disruptions. I have recommended these products to loads of family and friends and will continue to do so
03/21/2022
Gaëlle D.

United Kingdom
Great product
My daughter really struggled to sleep recently (she is 8). I started those sachets and after day 3 she went by to her happy self falling asleep and sleeping well! She did not like the taste with milk but going down well with her yogurt. Thanks !
03/14/2022
Max C.

United Kingdom
Be sleepy
My 11yr daughter has trouble switching off at bedtime, I have definitely noticed a difference in her falling asleep sooner since using be sleepy.
01/18/2022
Rachel D.

United Kingdom
Transformed our nights
I found Lizzie Loves through the Nanny Louenna app, and I am so glad I did! We have now been using the Be Sleepy sachets for almost four weeks and my toddler has gone from waking multiple times a night to waking only a couple of times and he is teething!!! It really has worked a miracle and I cannot recommend them enough. Thank you Lizzie Loves for restoring some calm and improving our sleep.