4 weeks to a sugar free family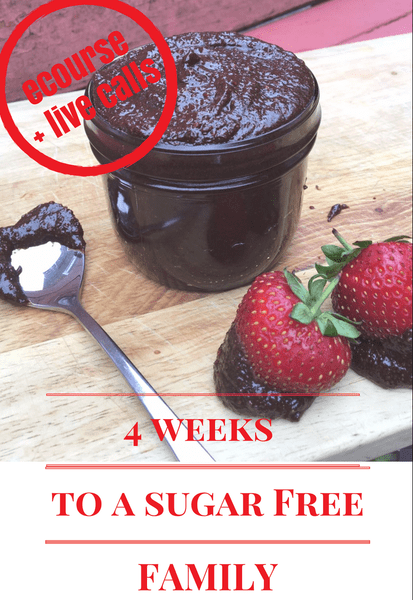 4 weeks to a sugar free family
4 WEEKS to a SUGAR FREE FAMILY
LOVE FOR THIS PROGRAMME:
 "I have become so happy and healthy in the last month. I have lost over a stone in weight my skin is amazing and my moods are a lot more balanced through out the day . Definitely a lifestyle change for me. Thanks so much." Katia, Mum of toddler
I'm so excited to be sharing ALL my tools and tips and recipes for the easiest, tastiest, smartest and most kid-friendly way of getting the white stuff out of your kitchen and your system for life!
Exclusive recipes
Without misery and deprivation. This is going to be a blast I promise!
It's a HUGE deal, and can be really daunting, which is why I devised this specially tailored programme to walk you through every single step to a healthier, happier, more energetic and positive YOU this year.
LOVE for my programmes
"AFTER MY MONTH DOING THIS THE WHOLE FAMILY IS FEELING A MILLION TIMES BETTER. WE HAVEN'T HAD ANY CRAVINGS AND CAN'T WAIT TO KEEP IT UP. THANK YOU LIZZIE, IT IS ALL DELICIOUS AND SO MUCH EASIER THAN I IMAGINED!" Sophie, Mum of two
"I'm one week in to the REBOOT and I feel so much better, a lot healthier, less bloated and I've lost 7 lbs too!"    Karen, Jan
DO YOU WANT for your whole family?:
                                                        +          More Energy
                                                        +          Better Sleep
                                                        +          To shed extra pounds
                                                        +          The end of sugar cravings
                                                        +          More stable moods
Then this is the foolproof plan for you. A super simple, detailed programme to walk you through getting off sugar the easy and delicious way.
An amazingly easy, delicious plan covering EVERYTHING you need to ditch the white stuff for your whole family in just 4 weeks.
Introduction  and focus plan to start the month off
4 x weekly emails to gear you up for the week ahead
4 x LIVE CALLS with Lizzie to go over hot topics and general Q&A
4 x Weekly Meal Plans
40+ delicious recipes
Daily Timetable with hints and tips
Full Shopping Lists to save time
1 week Maintenance Plan to keep you on the straight and narrow for life!
Regular motivational emails
The science made easy on what it does and why we can't stop!
I'm so looking forward to starting this programme with you all, and can't wait to see how you    
LOVE For the REBOOT
"This is so detailed I'm so impressed. All the recipes, lists and I especially like the list of extras other than the food. Truly a work of art. Thank you so much!" Kia, Teacher, Mum of 2, Los Angeles

"The recipes look so amazing, it's all laid out so brilliantly, I can't wait get started." Georgina, Mum of 1, Australia

"Thanks so much, just got the plan and it looks FAB." Joe
TESTIMONIALS from the 7 Day Plan
"I've got LOADS more energy, and am feeling amazing after your 7 Day Plan. I'm carrying on sugar free as it's made all the difference. Thank you so much." Kate, Mum of 2

"I woke up full of energy, from the moment I opened my eyes. I can't wait to start the 21 Day Reboot." Rachel, Mum of 3
+Due to the nature of the online product all sales are final and refunds can not be given